Our Services at a Glance
All work is carried out by our own dedicated team of craftsmen, who have over 150 years combined workshop experience. Our business profile allows us to be highly competitive with all work carried out solely by the four partners, it allows the Partners of this business to offer the
UK Gun Repairs Commitment
that your gun is covered by our insurance from the time it leaves your home until it is returned to you, that we will keep you advised at all stages of repair or refurbishment thereby being able to offer accurate turnaround time scales. Customer service is a very important to us as is keeping costs down to an acceptable level.
Actions and Locks

We can help with misfiring Problems: (New firing pins, mainsprings, lock problems including broken springs, tumblers, swivels and broken parts), ejection problems: (Non-ejection, poor ejection and broken parts), single trigger problems: (Non engagement of second barrel, double discharge, and faulty trigger pulls), faulty safety catches: Auto to non-auto and vice versa, safety returning to 'safe' after first barrel), re-jointing and tightening, tightening for Proof, fitting of New cross – pins, re-barrelling: (New barrels, interchangeable barrels and old non – ejector guns converted to ejector), New Build: (side by sides, over & Unders, Double Barrel Rifles, Hammer Guns and Bolt Action Rifles), Manufacture and Replacement of any lost or broken parts or pins.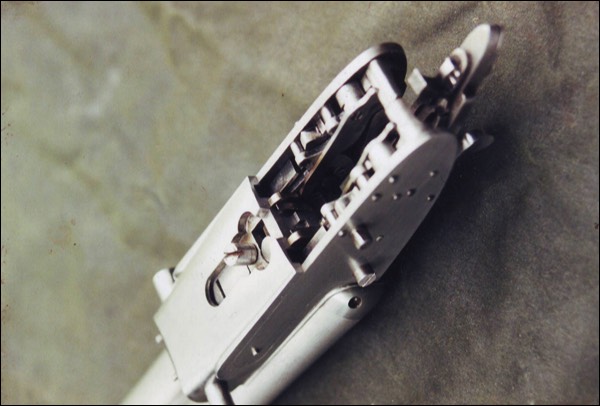 Barrels

We carry out a broad array of barrel repairs, modifications, and refurbishment. We offer traditional best London rust blacking (Blueing), choke alterations, traditional best London rust browning, supply and fit new top/bottom rib, removal of surface pitting, barrel shortening and re-fix for-sight, lap and polish bores, re-seat forend loop, raise dents, barrel sleeving, polish bores, and supply new Barrels.
Stocks & Forends

We have built up a good reputation for our wood products. We can help you with gun fitting, altering stocks to clients measurements or new a new made to measure stock. If you do not know your required dimensions we will be pleased to meet you and undertake the task of fitting and taking measurement and finally altering your gun to suit. We hold a considerable quantity of replacement and custom woodwork to suit Perazzi, Beretta o/u game or competition guns. We can carry out alterations such as Lengthening, Shorten LoP, Raise or Lower comb, adjust Cast. We can refurbish dents and carry out scratch removal and refinishing with a best London hand rubbed oil finish. We can also carry out Re- chequering or clean up existing chequering if possible.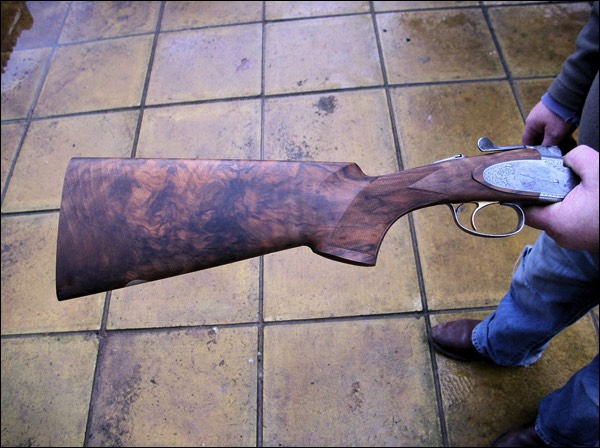 General Repairs

The amount of different scenarios we encounter is endless. The following are just a few of the more common examples of the work we undertake. If you would care to contact us with a description of your gun's fault, we will be delighted to discuss the problems and if possible offer a guide to costing. To arrive at an accurate final cost the item in question will have to be inspected at our premises. Replacement of broken or worn parts, E.g. springs (main, ejector, top lever), firing pins (strikers), ejectors and ejector timing, hammers & sears, safety mechanism, adjust and regulate trigger pulls.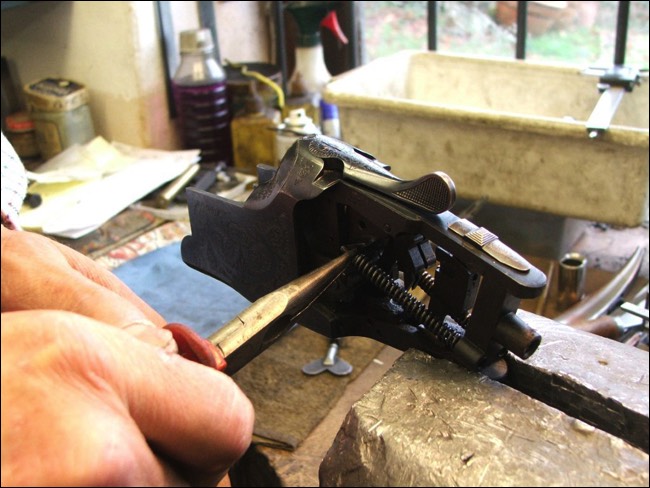 Special Commissions

Without doubt this is the most enjoyable and demanding element within the gun trade. Specialist commissions afford all the craftsmen an opportunity to showcase their individual talents and skills culminating in a unique and personal shotgun/Rifle tailor made to your choice. At UK Gun Repairs, we are very fortunate to have the necessary skills to undertake commissions that will ensure only the finest finished product leaves our premises.

We welcome the opportunity to talk about your individual requirements and working closely with you through any project to completion.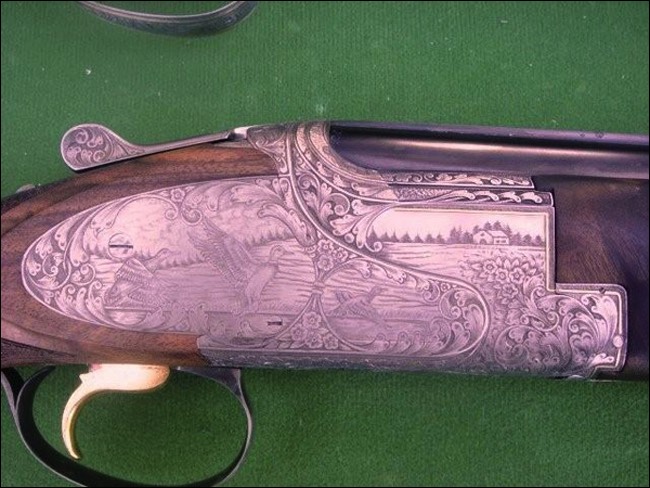 Servicing & Spares
On numerous occasions during this process, we have made minor adjustments that have averted a breakdown and in turn dramatically reduced the chances of a substantial repair bill, or worse an accident. We hold an extensive range of used spares for most makes of shotgun and many popular rifles. If the item you require is not held in stock and we are unable to source it elsewhere, then in most cases we are able to quote for the custom making of the item you require. The list of manufacturer's spares we hold is comprehensive and amongst the more popular are: Browning, Beretta, Miroku, Aya, Gamba, Remington, Lincoln, Lanber, and Rizzini. We also keep a selection of service spares for many English guns, including, Holland and Holland, James Purdy , Boss, William Evans, Dickson and Webley and Scott.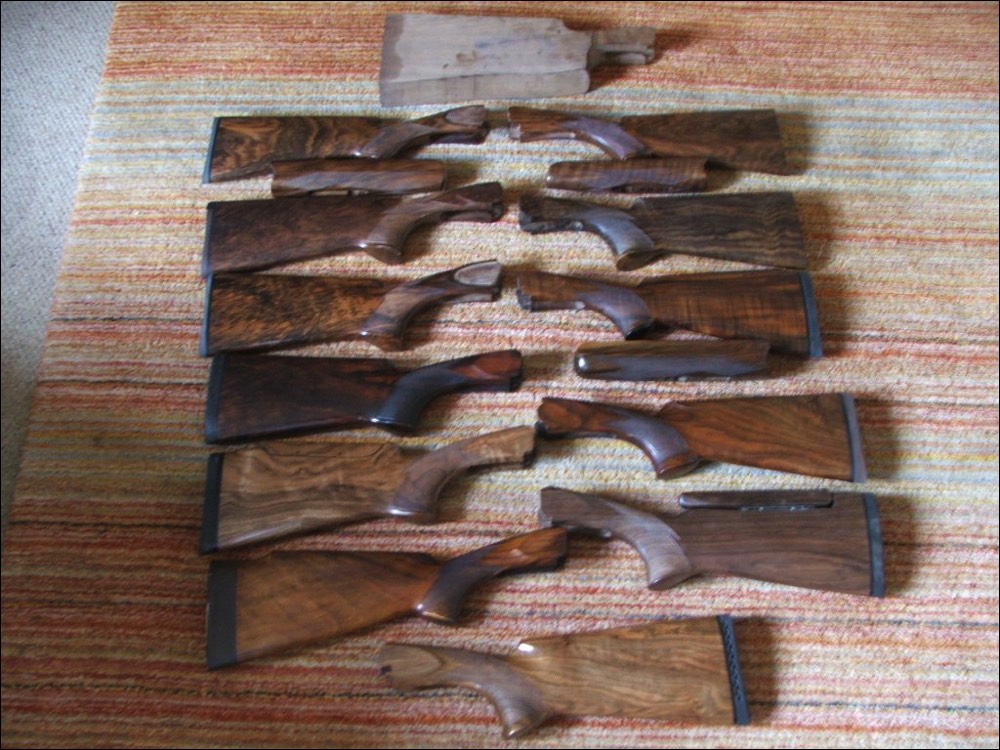 The UK Gun Repairs Partners are proud to offer a premier repair and refurbishment service for all aspects of the gun trade. This service ranges from the modern sporting shotgun to fine English game guns. Whether it is a minor or major repair or even a complete restoration, please do not hesitate to contact us. We take great pride in our customer focussed approach, therefore all our customers are treated with the utmost respect. To make an enquiry please telephone 01823 650887, we'd be delighted to provide you with a fully detailed no obligation quote.
Insurance Quotations

Through our specialist knowledge of the gun trade, we are pleased to be able to offer the owners of shotguns or rifles, a comprehensive breakdown of replacement parts or repairs together with their costing for consideration by Insurance companies. Quotations are free and without obligation.

Quotations cannot be given over the phone or by means of photographs. The item in question must be inspected by us to make an accurate assessment.